The Value of Balanced Spectrum, Low Radiation Lighting
Compare color balanced Promolux lamps with everyday lighting products.
Lamps commonly used in commercial display cabinets are usually inadequate for retail food merchandise displays. They are often too hot, too bright and wash out the natural range of colors with excessive yellow and green portions of the visible spectrum.
Why risk losing the natural appealing colors of fresh foods and valuable goods
when you can be sure with Promolux?
Promolux balanced spectrum lamps reveal the natural vibrant colors of all showcase items and can significantly improve the effectiveness and salesability of your display case unit.
Advocating Food Safety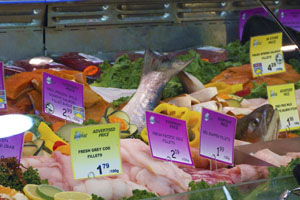 When food safety is important, temperature controlled display merchandisers need lighting that can reduce damage from drying, overheating and photo oxidation.
Even though all perishable foods displayed under lights in display cases will suffer some degree of damage from the effects of heat and light radiation from infrared and ultraviolet rays, Promolux lamps protect fresh foods by reducing heat and UV emissions.


Food Lighting That Protects Shelf Life
The secondary function of any display case is to maintain product integrity and shelf-life for as long as possible. When supermarket and store managers identify a shelf-life problem, they often incorrectly assume that it is caused by dry air, a poor cooling system, or a deficiency in the design of the refrigerated display case.
In truth, the cause of the problem is often improper lighting.
---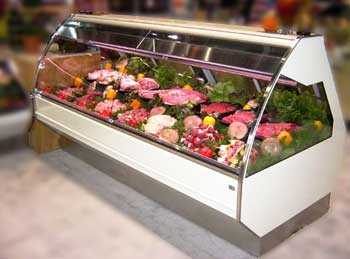 To support the shelf life extension and performance of their cases, many refrigeration equipment manufacturers are outfitting their factory cases with Promolux lights.
Many of the industry leading display case manufacturers are taking a proactive role in providing engineered solutions to their customers' merchandising problems before-hand by installing lamps specifically designed for food retail applications.
---
However, many cases in the field at store level are still be installed with "regular" fluorescents. Switching to Promolux often resolves the issue of fading colors, the hardening and spoling of products and waning sales.
Promolux balanced spectrum lamps keep food displays fresh and looking their best, saving retailers thousands of dollars.
Use the Live Help button to speak to a customer service representative.