The Problem Food Retailers Are Facing And How You Can Help
Are your grocery and fresh food clients happy with the performance of their display cases? Would they like to save more money, conserve energy, reduce product shrink and discard all the while improving the presentation and appeal of their showcases?
If the answer is yes, then as a lighting specialist, there is a service opportunity for you.
The light output of almost every "regular" light bulb used today is very strong in the yellow/green color spectrum. These colors offer the greatest illumination which is great for lighting a room or warehouse but when it comes to fresh food displays, the over abundance of light can prove quite damaging to fresh foods and food retailers botoom line.
When used in retail food displays, lights that are skewed towards the yellow/green end of the spectrum cast such an unflattering hue on the merchandise that it makes it look less appealing and inviitng for shoppers.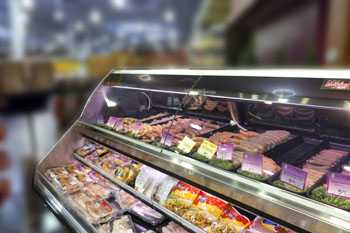 PROMOLUX is a professional grade of food lighting specifically designed to balance the full spectrum for an unmatched equilibrium of color rendering. By using PROMOLUX, your food retail customers will enjoy vibrant and natural displays where merchandise retains its freshness and shopper appeal.
Ultra Violet radiation is the radiated wavelength (like microwaves) which causes surface fading, discoloration as well as drying from the evaporation of moisture in fresh foods and perishable products. Ultra violet radiation that affects food is recorded in the form of UVB and UVA. It not only speeds up the decomposition process, but it also encourages bacterial growth, a growing concern for food stores and consumers.
PROMOLUX filters out 86% of UVB radiation and 52% of UVA radiation normally emitted by typical fluorescent lamps. This reduction in UV output can result in 1 to 3 days extra shelf life, depending on the sensitivity of the perishable food item.
Adding Promolux to Your Line Card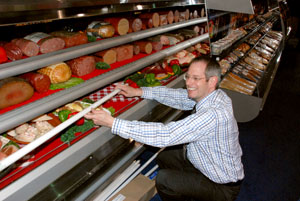 As a lighting specialist, lighting contractor or lighting reseller you have a greater understanding of the challenges that many food retailers face. A growing concern among fresh food retailers is energy efficiency. As an industry lighting professional you can help your grocery and fresh food retail clients achieve considerable energy savings without sacrificing presentation and product integrity.
The Food Marketing Institute recommends that grocery markets and specialty food stores use T5 and T8 lamps to save energy in their display cases.
Promolux manufactures fluorescent tubes in T5, T8 and T12 lamps as well as compact fluorescents and halogens which are ideal for spot merchandising and overhead lighting systems.
---
Promolux is a lighting solution that will provide
your grocery store customers the premium qualities of
excellent color presentation and the highest level of product protection.
---
Your supermarket, independent grocers, boutique and gourmet food retailers will all be happy with the improved performance and setup of their fresh food showcases.
Distributor Testimonials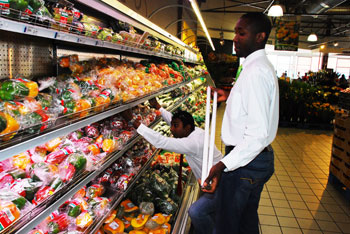 When we asked our distributors why they chose to add the Promolux line to their business here is wht they told us:
---
"I have clients who like to use them; I saw a need for it."
---
"Promolux is a quality product that makes a noticeable difference for my customers."
---
"The uniquesness of the product allows us to penetrate a very large market with very little competition."
---
Promolux Lighting is the Only Affordable Solution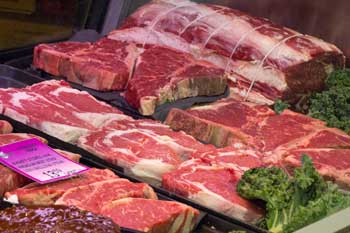 Promolux lamps use a proprietary phosphor-coating that produces a natural, balanced light and filters out damaging ultraviolet, infrared and visible spectrum wavelengths.
PROMOLUX lamps provide tremendous results in many areas in the retail food business such as produce, fresh meat & deli, fresh seafood, bakery, salad bars, floral, and warm prepared food displays.
PROMOLUX is approved in writing by health officials for applications such as meat display cases where color integrity has been scrutinized before with color enhancing red meat lamps, which Promolux are not. Independent bakery, butcher, deli, seafood, and floral shops are always excited about the competitive edge and distinction that PROMOLUX provides for them.
You will find that Promolux lighting improves the presentation and shelf life of the products in your grocery clients display cases. Just install Promolux specialty lamps in your customers cases and you'll earn their gratitude in helping optimize the and perfect the sustainability of their business.
---
Contact us today to join our global network and inquire about carrying the Promolux line of professional food lighting.