Promolux the Professional Lighting Source for Retail Food Displays
Using display case lighting as a merchandising tool is a good way to showcase fresh food items on display and draw in shoppers.
Lighting is a major contributing factor in how fresh foods appear and their level of freshness. Merchandising fresh foods is a challenge. The objective is to let shoppers see the food while storing and merchandising it appropriately so it is safe to eat.
Regardless if you have new or used deli cases, meat or seafood displays, it is still important to use the right light source inside your showcases. What is the point of putting out your best cuts of meat, the fresh catch-of-the-day or the mouth-watering prepared deli salads if they are going to dry out, fade and discolor under the heat and glow of the case lamps?
Products that spoil too quickly cost you money and must either be discounted or re-packaged as another sku item. When you use professional food lighting, like Promolux, in your food display equipment, you can confidently showcase your product knowing that both it and it's shelf life are protected.
---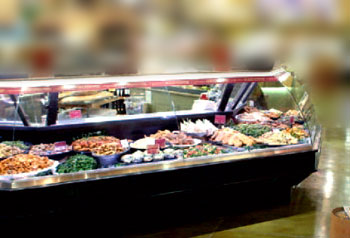 "Purchasing Promolux lamps has been very beneficial for our business. The lights in the deli case have improved our display and extended shelflife on all products which means less waste and an increase in sales."
Ned Ryan (Owner) - IGA Boonah
---
Using Promolux food merchandising lights in your fresh food display cases will ensure your display is visually appealing and looks its best as well as reducing operating costs, and generating greater sales margins.
Improve the presentation and profitiability of your display case - install Promolux specialty lamps. Contact us today to get started.
True Color Definition
Promolux is a balanced spectrum lamp, meaning that the the full spectrum of colors has been attained through the addition of top quality rare earth phosphors. The majority of fluorescents are focused in the yellow and green spectrum of color whereas Promolux combines high definition blue and deep red for the perfect balance and highest contrast for each and every shade of color. Under Promolux, foods look so naturally vibrant and fresh and allows the vivid color that already exists in products to appear as nautural as possible.
Heat sensitive products such as fresh meat can shorten their shelf life as much as 50% due to the dehydration, discoloration and fading under improper lights sources. With Promolux lamps fresh meat retains it's color, bloom and natural juices due to the elimination of 86% of the harmful UV radiation found in regular fluorescent bulbs. For butchers and meat departments, this translates into increased sales.
---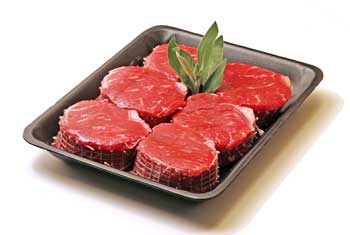 "When we first experimented with Promolux about 2 years ago, I put them in only half of my case, but they were so appealing and made the regular bulbs look awful in comparison that within 2 weeks I put Promolux in the entire case. We now use it for meat, seafood and poultry. With the meats, the marbling is so much better, the whites aren't yellow or faded.
The color is much better and it makes our products look nice and pretty. I don't know much about light bulbs, but that's the best way to describe it. Customers comment on our wonderful presentation, and I attribute that to 50% of my wonderful meat cutting and 50% Promolux."
A. J. Lynn (Team Leader) - Whole Foods
---
Focusing on Correct Store Lighting
If your business or food service station uses a hot food display case, Promolux spot lamps are a great choice. For refrigerated and dry food displays, such as deli and pastry cases, Promolux Platinum color blend will provide you with the right balance of color and illumination per watt than any other light source.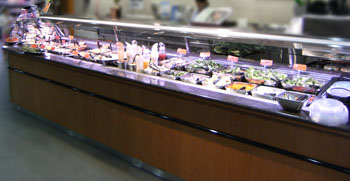 Designed specifically for food display cases, Promolux will give you a full array of color rendering and the highest level of filtration for extended shelf life and integrity. Promolux is the perferred lamp of choice for professional retailers and store owners world-wide.
Promolux is built on the collection of numerous studies science that illustrates the importance of food safe lighting.
The Promolux line of fresh food lighting includes lighting fluorescent tubes in T12, T8, T5 and compact fluorescents, spot and track lighting halogens and incandescents for a variety of food display cases. In addition Promolux lamps are available in two color blends, Platinum and Gold as well as shatter-proof safety coated formulas specifically for service showcases.
---
Contact us now to set up an in-store trial.
See first-hand the true difference Promolux lighting makes
---